PARK IN THE SKY- Day Trip for Summer Camps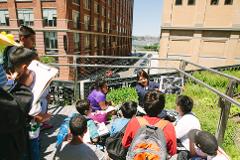 Duration : 75 Minutes (approx.)
Product code : PV61ZS
Learn about the art, history, design, and horticulture of the High Line in an exploratory tour and then create your own park with our Children's Workyard Kit.


Camp trips are 75-minutes long and feature an exploratory tour followed by an interactive design challenge. Programs are available for ages 6-14 Monday through Friday. All trips are rain or shine. Please see our weather policy below.

For information about booking a trip, please contact grouptrips@thehighline.org. For general questions about program content, please contact School and Family Programs Coordinator Becky Houran at Becky.houran@thehighline.org.
Seeking additional financial assistance? A select number of discounted waivers are available to groups who qualify. Please contact grouptrips@thehighline.org for more information.
Please note that if you're travelling from outside Manhattan, you may want to select a later time to visit so you can make the most of your trip.
Using the outdoors has many inherent benefits and teachable moments. There are also the added circumstances to deal, such as inclement weather. Except in the circumstances of extreme and severe weather, the trip will go on outdoors as scheduled no matter what the weather. If there is severe weather, we will make every attempt to reschedule the trip.
Severe weather that would cause a trip to be cancelled and rescheduled includes (but not limited to):
Thunderstorms and lightning in the immediate area
Thunderstorms or tornado warnings in the immediate area
Wind chill or temperature below 0 degrees Fahrenheit
Heat index or temperatures above 100 degrees Fahrenheit
If the weather is severe the day of your trip, Friends of the High Line will be in contact with you by email by 7 AM.
If a trip is cancelled due to severe weather, Friends of the High Line will make every attempt to reschedule the trip. If rescheduling is not possible, we will refund any program fees.
If your group is scheduled to come on a day that has inclement, but not severe weather, we will do our best to make accommodations during the trip to make it the best experience possible for your campers. The weather is part of the natural world and we appreciate your understanding and patience when dealing with something so unpredictable.